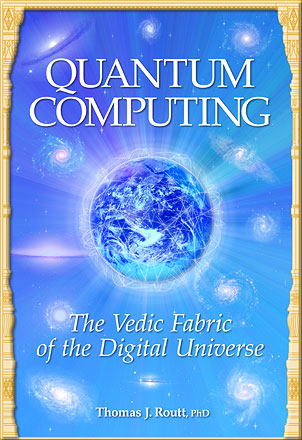 Quantum Computing provides a map to the timeless laws of nature that eternally compute and shape both the hidden and expressed universe.
Quantum Computing: The Vedic Fabric of the Digital Universe reveals the astounding bridge between two scientific world-views—one modern, Western, and technology-based, and the other ancient, Eastern, and consciousness-based. Quantum Computing provides a guide to the striking parallels between quantum computation and the ancient Veda and Vedic Literature, and its evolutionary, practical applications. Read more...
COSMIC COMPUTER, COSMIC SWITCHBOARD, DIGITAL UNIVERSE, RAAM GATE, VEDACOM, and VEDIC COMPUTING are registered trademarks of Thomas J. Routt. GLOBAL INTERNETWORK, HARDWARE-SOFTWARE GAP, NETWORK-ON-A-CHIP, QUANTUM GAP, QUANTUM NETWORK ARCHITECTURE, QUANTUM SEARCH ENGINE, and VEDIC GAP are trademarks of Thomas J. Routt. Other brand and/or product names may be trademarks or registered trademarks of their respective owners.